Honda Center stands as one of the premier entertainment and sports venues in the country.
Honda Center annually hosts top-name concerts, exciting sporting events and family favorites including Disney on Ice. In just the past few years, capacity crowds filled Honda Center for events such as UFC, Karol G, BTS, Jo Koy, Twenty One Pilots, Kendrick Lamar, Chris Stapleton, and more. Since opening, the arena has hosted over 4,000 events and more than 43 million guests have walked through its doors.
Our History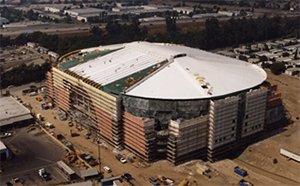 Owned by the city of Anaheim, Honda Center officially opened as Anaheim Arena on June 17, 1993. A few days later, Anaheim Arena welcomed fans for the first timewith a sold out Barry Manilow concert on June 19, 1993. In October of that same year, the venue was renamed Arrowhead Pond and hosted the first Mighty Ducks of Anaheim game. The year 2005 began a new era as Henry and Susan Samueli took ownership of both the team and the venue management company, Anaheim Arena Management, LLC. In 2006, the official name of the arena changed to Honda Center, along with the team to Anaheim Ducks.
Honda Center continues to make improvements to the facility, all in the interest of creating a great experience for every visiting fan. The venue's most expansive upgrade, The Grand Terrace Project, newly rebranded as the Brewery X Biergarten, features a 15,000-square-foot indoor-outdoor entertainment space, a 250-seat full service restaurant on the main level and an expanded Anaheim Ducks team store. A state-of-the-art multimedia platform has been installed throughout the arena, incorporating more than 500 HD Monitors into the venue, creating a world class immersive live entertainment experience.
Building Facts
Construction start date: June 1991
Opening date: June 17, 1993
First Event: Barry Manilow on June 19, 1993 (sold out)
Building original cost: $103 million
Building final cost: $123 million
Architect: Hellmuth, Obata & Kassabaum (HOK)
Building owner: City of Anaheim
Management and Food & Beverage: Anaheim Arena Management, LLC
Main Tenant: Anaheim Ducks (Anaheim Ducks Hockey Club, LLC) 
The arena was home to the Big West Basketball Tournament from 2011 to 2019
NCAA History: Men's Basketball West Regional (1998, 2001, 2003, 2011, 2014, 2016, 2019), 2008 Men's Basketball First & Second Rounds, and 1999 Men's Ice Hockey Frozen Four.
Seating Capacities
Hockey Capacity: 17,732
Basketball Capacity: 18,609
Center Stage Capacity: 19,578
End Stage Capacity: 13,793
Theatre: 10,935
Function Rooms include the Vista Rooms and Anaheim Room
Jack Daniel's Old No. 7 Club & Brewery X Biergarten located on the Private Club level
3,532 parking spaces
Fun Facts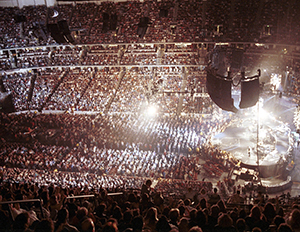 The complete arena encompasses 650,000 square feet
There is more than 200,000 square feet of marble lining the interior concourses and walls.
The 12 feet of granite, mined in Sweden and fabricated in Italy, encircles the exterior
The building's roof spans 444 feet by 329 feet, more than 100 feet above the arena floor
The distance from the arena's highest seat straight down to the floor level is only 82 feet.
Ice is made for hockey games thanks to 10 miles of piping that travels along the arena's concrete floor.
When ice is needed for an event, a solution made up of 40% Ethylene Glycol and 60% water is pumped through the piping, freezing the concrete. A thin layer of water is then pumped onto the floor and freezes to the concrete. Logos and ice markings are painted and another layer of ice is added.
It takes roughly 30 hours and 15,000 gallons of water to complete the ice making process, but only 5-6 hours to remove the ice at the end of the season.
Ice hockey is played on ice that is 1 1/4" thick with a floor temperature of 21 degrees. The ice for figure skating is 2" thick and 25-26 degrees. Figure skaters need the ice to be thicker and softer for jumping and landing.
It takes eight hours for a 25 man crew to go from hockey to a concert setup
There are more than 130 palm trees on the property.