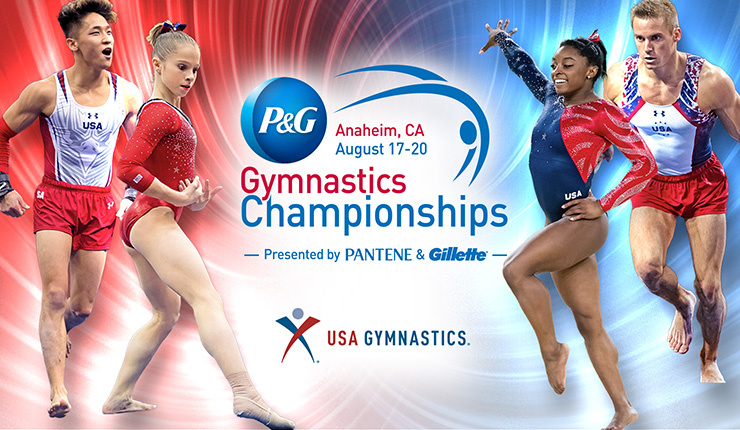 2017 P&G Gymnastics Championships
2017 P&G Gymnastics Championships
USA Gymnastics, Honda Center and Visit Anaheim announced that the 2017 P&G Gymnastics Championships, the national championships for men's and women's gymnastics, will be held in the city of Anaheim for the first time. The country's best gymnasts will compete in the four-day competition at Honda Center Aug. 17-20, 2017. Also, the USA Gymnastics National Congress and Trade Show will be held at the Anaheim Convention Center Aug. 16-19, 2017.
 
The P&G Championships determines the men's and women's U.S. champions and the U.S. National Team for the junior and senior elite levels. The field will feature the country's top gymnasts, and the championships also traditionally serves as part of the selection process for the U.S. Team for the World Championships.
 
Simone Biles of Houston, Texas/World Champions Centre, and Sam Mikulak of Newport Beach, Calif./Team Hilton (U.S. Olympic Training Center), won their fourth consecutive women's and men's U.S. all-around titles, respectively, at the 2016 P&G Championships. The roster of former U.S. all-around champions is a veritable who's who of gymnastics, including: women – Jordyn Wieber, Nastia Liukin, Shawn Johnson, Carly Patterson, Courtney Kupets, Shannon Miller, Dominique Dawes, Kim Zmeskal and Mary Lou Retton; and men – Paul Hamm, Blaine Wilson, John Roethlisberger, Mitch Gaylord, Peter Vidmar and Bart Conner.
The competition schedule for the four days is as follows (subject to change). 

• Thursday, August 17: Men's gymnastics — 1 p.m., juniors, and 7 p.m., seniors
• Friday, August 18: Women's gymnastics — 1 p.m., juniors, and 7:30 p.m., seniors
• Saturday, August 19: Men's gymnastics – 12 p.m., juniors, and 5 p.m., seniors
• Sunday, August 20: Women's gymnastics – 11 a.m., juniors, and 3:30 p.m., seniors
Tickets may be purchased at Ticketmaster.com or by phone at 800-745-3000. For group sales, contact Honda Center's David Casper at 714-940-2859 or via email at dcasper@hondacenter.com. Gymnastics clubs also have the opportunity to purchase discounted all-session, multi-session and single-session tickets through the Gym Club Ticket Program.
Single-session Tickets
Single-session tickets are now available and range in price from $20 to $122 per ticket.
   
All-session Tickets
Ticket prices vary according to seat location, and the all-session ticket package provides access to all eight competitive sessions.
 
All-Session Ticket Package includes every competitive session, with prices running from $159-$699. Platinum packages include VIP seating in the first five rows, an Olympian meet and greet, and a USA Gymnastics gift.
 
Gymnastics clubs also have the opportunity to purchase discounted all-session tickets through the Gym Club Ticket Program. For information about the Gym Club Ticket Program, contact David Casper at 714.940.2859.
 
Multi-session Tickets
Fans can buy four different multi-session packages: women's gymnastics day one; women's gymnastics final day; men's gymnastics package; and senior finals package.
 
Here's a quick snapshot of the ticket packages and price range:
You Might Also Like